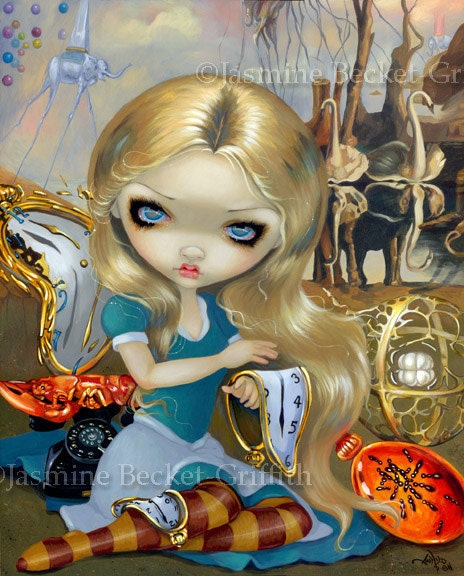 I went to
RustyCon
this weekend, primarily because Jeremy was on a number of panels, talking about writing and gaming and such. We had some time to kill, so we stopped by the art show. At one end of the room, they had a "Print Shop," where you could buy prints of various pieces of art in the show (and some that weren't. I'm not sure if I just never noticed this at other cons, or if RustyCon does it a little differently. But I had some cash, and a couple of pieces had caught my eye!
I picked up two prints by
Cori Dietsch
--one of a digital work inspired by
The Last Unicorn
, and one of a watercolor of a raven. The raven one wasn't something we had seen in the art show, but I stumbled across it in the print shop and HAD to buy it. I may have a small obsession with ravens. :)
The other print was from an artist that I was familiar with through her Etsy shop, but was a piece that I had not seen previously. This was
Jasmine Becket-Griffith of Strangeling
, who paints the cutest creepy big-eyed girls. And here, it was an Alice in Wonderland and Dali-inspired piece (pictured to the right of this blog post). Again, small obsession. :)
I am now in desperate need of a whole lot of frames. I'll probably end up seeing what I can find at Goodwiil, because some of these prints really demand some funky frames, not the sleek, modern looking ones at most stores.